We Welcome You!
The Reverend Moray Peoples and the people of Holy Trinity Episcopal Church thank you for visiting our website and hope you will join us for Services and Fellowship at our Church in Brandenburg, Kentucky.
Holy Trinity Episcopal Church is found at 319 Oaklawn Rd, Brandenburg, KY 40108.
Join us on Sunday for worship and fellowship.
10:00 AM Sermon and Holy Communion
11:00 AM Coffee Social and Children's Sunday School; Adult Enrichment Classes
Upcoming Events:
8-2-14 at 7:30 PM at Holy Trinity
Our Summer Sacred Arts Music Concert series will continue on Saturday, August 2, at 7:30 pm.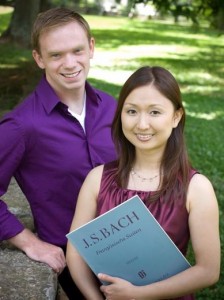 The concert will be presented by Jason Wade, violinist, accompanied by Hiromi Blinchevsky, pianist.  Jason is a 2014 music performance and French graduate of Ball State University.  Hiromi is a piano performance major and a doctoral student at Ball State.
Music to be performed includes arrangements from Bach, Handel, Mozart and Dvorak.
The concert is free.  Refreshments will be served following the program.  We invite our congregation and community members to attend and enjoy an evening of beautiful music.  A flyer with info about the program is attached below.
Violin and Piano Recital Flyer
8-12-14 at 5:00-8:00 PM – Dairy Queen Fundraiser (2030 Bypass Rd., Brandenburg, KY 40108)
Please stop in for a bite to eat or maybe a cold dessert after your own evening meal. The proceeds from this fundraiser will assist with our Holy Trinity General Fund.
8-17-14 at 3:00 PM at Holy Trinity
A concert featuring music for brass, woodwinds, and string ensembles accompanied by piano and organ, will be held. The finale will feature a composition written for all instruments and organ.
Parking, ramp, and chairlift available for handicapped Worshipers.  Our common life is regulated by the rhythms of the church year (Advent, Christmas, Epiphany, Lent, Easter, and Pentecost).
Get involved in our Church Life through such opportunities serving as chalice bearer and acolyte, as well as a variety of community outreach ministries and others.