Holy Trinity Episcopal Church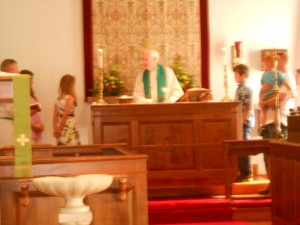 We Welcome You!
The Reverend Moray Peoples and the people of Holy Trinity Episcopal Church thank you for visiting our website and hope you will join us for Services and Fellowship at our Church in Brandenburg, Kentucky.
Join Us On Sunday for Worship and Fellowship.

Lenten Schedule
10:00 AM Sermon and Holy Communion
11:00 AM Coffee Social and Children's Sunday School; Adult Enrichment Classes
Parking, ramp, and chairlift available for handicapped worshipers.
Our common life is regulated by the rhythms of the church year (Advent, Christmas, Epiphany, Lent, Easter, and Pentecost).
Get involved in our Church Life through such opportunities serving as chalice bearer and acolyte, as well as a variety of community outreach ministries and others.